INTRODUCTION
Hidizs have been around the block for a while now, mostly focusing on portable DAC/Amps, dongles, and the occasional DAP/IEM. The AP80 Pro is their update to the original AP80, and it brings in a dual-DAC architecture and a balanced output. The rest of the device is rather intriguing too with DAC support, MQA decoding capabilities, and sporting Hiby OS which has a lot of bells and whistles to tweak the sound.
Without further ado, let's see if the Hidizs AP80 Pro can justify its $170 price tag.
Note: the ratings given will be subjective to the price tier. Hidizs was kind enough to send me the AP80 Pro for evaluation.

Firmware version: 1.5

IEMs/Headphones used: Final FI-BA-SS/E5000/Sonorous III, Dunu Zen, Campfire Audio Holocene, Meze 12 Classics V2, Etymotic ER2XR

Price, while reviewed: $170. Can be bought from Hidizs website (please note: this is an affiliate link, proceedings will go to a charity of choice)
PHYSICAL THINGS AND USABILITY
PACKAGING AND ACCESSORIES
The packaging is fairly minimal but you get all that you need to get started: a type-C charging cable, an OTG cable, and a horrible-looking silicone case. The case does its job but makes the entire device look ugly which is a shame given the great design. Nothing is left out, but nothing stands out either in terms of supplied accessories.
3.5/5
BUILD QUALITY AND HANDLING
The Hidizs AP80 Pro was quite a bit smaller than I assumed it to be. It fits right in the palm of your hand through the sharp edges can feel uncomfortable. The design is a popular one: aluminium frame sandwiched by two sheets of glass. The screen protectors are pre-applied and that's a good thing.
The scroll wheel is a bit of a mixed bag. It's rather sturdy (doesn't wobble as much as many others) and has defined clicks. However, the clicks feel mushy and the movement has a scratchiness to it. I am nitpicking but hey – I am a bit too particular about rotating knobs.
The playback buttons have good feedback, however, and I love that Hidizs put all the ports at the bottom of the device (unlike many flagship DAPs out there). On the left side you'll find the microSD card slot (up to 512GB+, absolutely necessary since the Hidizs AP80 Pro lacks in-built storage). The top is bereft of anything.
Overall, the Hidizs AP80 Pro has a good build and the design is rather unique indeed. I do wish the scroll wheel was better (despite using ALPS potentiometer).
4.5/5
DISPLAY AND USER INTERFACE (UI)
The display is a 2.45″ Samsung IPS panel (480*360) with a capacitive touch layer underneath. Since the display isn't laminated, it shows a loss of contrast when viewing from an angle (and not the best under direct sunlight). Display brightness is quite good though, and the pixel density is good enough to hide pixelation from a working distance.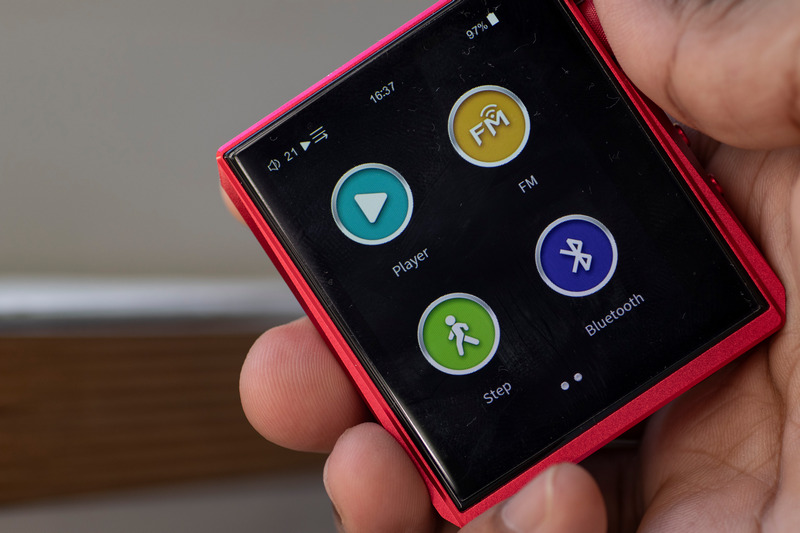 Hiby OS is what Hidizs is using here, and it's a pretty solid DAP OS. It takes ~10 seconds to boot, and then you go straight into a "launcher" of sorts. Here, you can access the actual music player, or use the FM Radio/Pedometer/BT DAC/eBook reader (why?)/System Settings/About menus. It's a pretty straightforward launcher though I wish there was a faster way to get back to the launcher screen from within the music player app (right now you have to exit the app and then only you can get to the launcher screen).
I think the most impressive/noteworthy part of the Hiby OS is its MSEB feature. It's a sort of DSP/Parmetric EQ combo that allows you to fine tune aspects of the output such as warmth/brightness/bass rumble/male vocal thickness and so on. It's fun to play with if you're into tweaking the sound of your DAP, and can help in fixing some tonality issues in many IEMs.
However, the implementation here on the AP80 Pro isn't as good as the one found on Hiby R6 2020, or even the Hiby R3 Pro Saber. Both of those had a more convincing tweak to the sound whereas on the AP80 Pro it feels like you're just using a multi-band EQ and never really have the same control on shaping the sound.
Sliding up from the bottom of the screen brings a menu that's not unlike iOS' Control Center. Here you can adjust the volume/brightness, control playback, and switch Bluetooth on/off, select gain level (low/high), switch between DAC or Storage mode when connected to USB, and finally switch between line-out/headphone output mode. Use the last one with caution though since it just maxes out the volume to reach the nominal 2Vrms output level (it's not a true line out where there is only voltage gain).
Speaking about the performance of the DAP, it's pretty good and much better than a certain Fiio M6. However, you won't get even a low-end smartphone level of smoothness. There will be missed swipes and taps and the entire UI runs at 30fps or lower so things won't be very smooth. It's absolutely usable though and a far cry from non-touch DAPs like Questyle QP1R in terms of usability.
4/5
BATTERY LIFE
Battery life was about average especially from the balanced out. You get between 8-10 hours of playback based on the device/volume level used mostly due to the 800mAh battery used. This is far from the battery life you get from some competing DAPs, namely Sony NW-A55 (~35 hours) or the Cowon Plenue D (~90 hours, it's not a typo). In AP80 Pro's defense – those don't have quite as much output power or balanced circuitry as the Hidizs DAP. However, we are considering raw battery life only, so it's an area where Hidizs can do better. The battery charging speed is fairly good though and should top the DAP up within an hour and half.
3/5
To view the full original article, click here.