HIDIZS S9PRO Dongle Highlights Review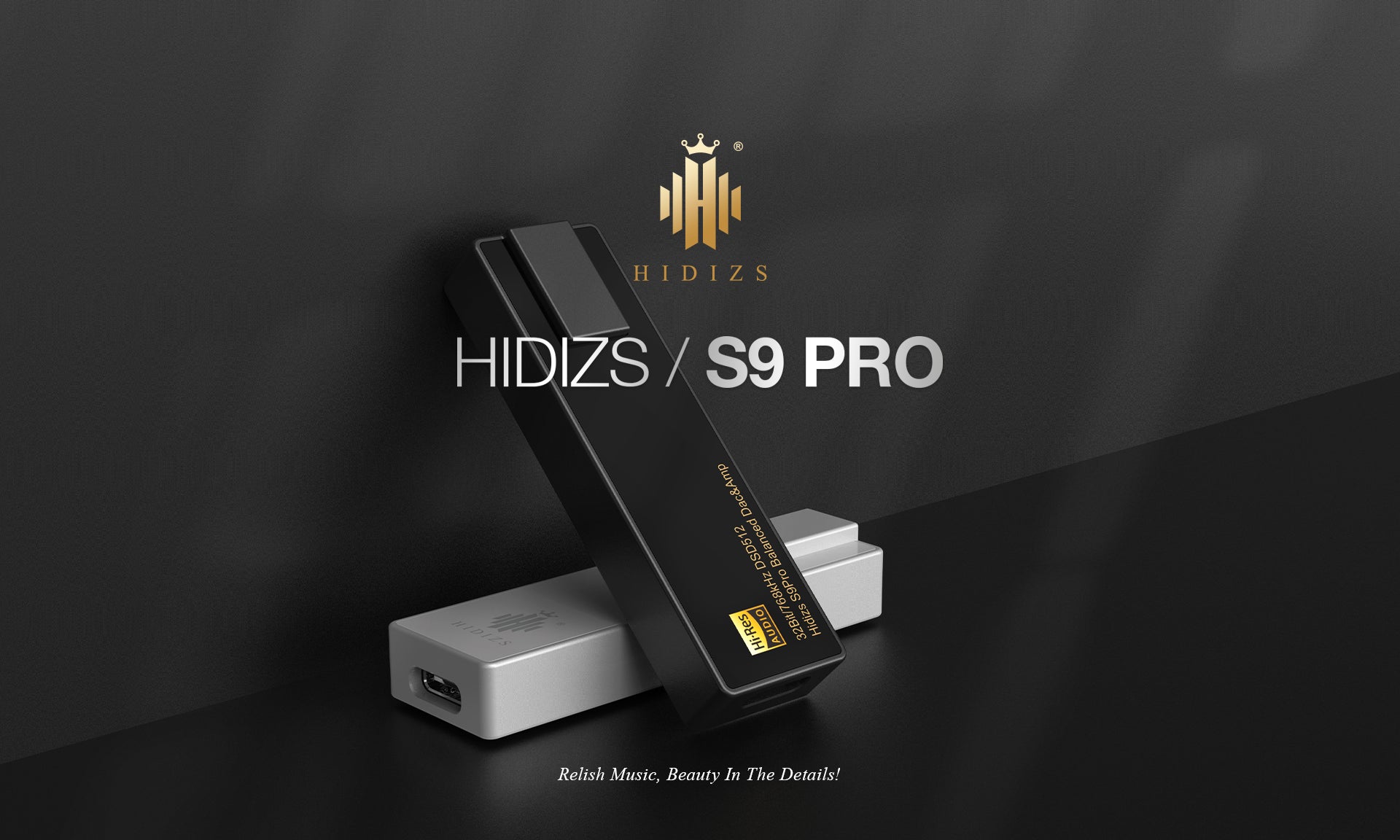 HIDIZS S9 PRO is a portable DAC amplifier (dongle) with single-ended and balanced capabilities, producing a warm and clean sound. The sample rate supports up to 32bit/768kHz PCM and DSD512. It is priced at $116.

Since its 2013 launch, HIDIZS has been singularly focused on producing quality audio products with an extensive of immaculate offerings. These products are perfectly suited for audiophiles who value portability, and what HIDISZ has done with portable products is nothing short of a masterpiece.

HIDIZS has portable DAC amplifiers, digital music players, headphones, audiophile cables, etc. There are 4 portable amp and DAC models alone, among them, the HIDIZS S9 PRO is particularly cost-effective.

The predecessor of the S9 PRO, the S9 with an AKM4493 chip, has now been upgraded to the ESS9038Q2M DAC chip for clearer resolution, more atmospheric sound, and better-balanced output, with a detachable cable design.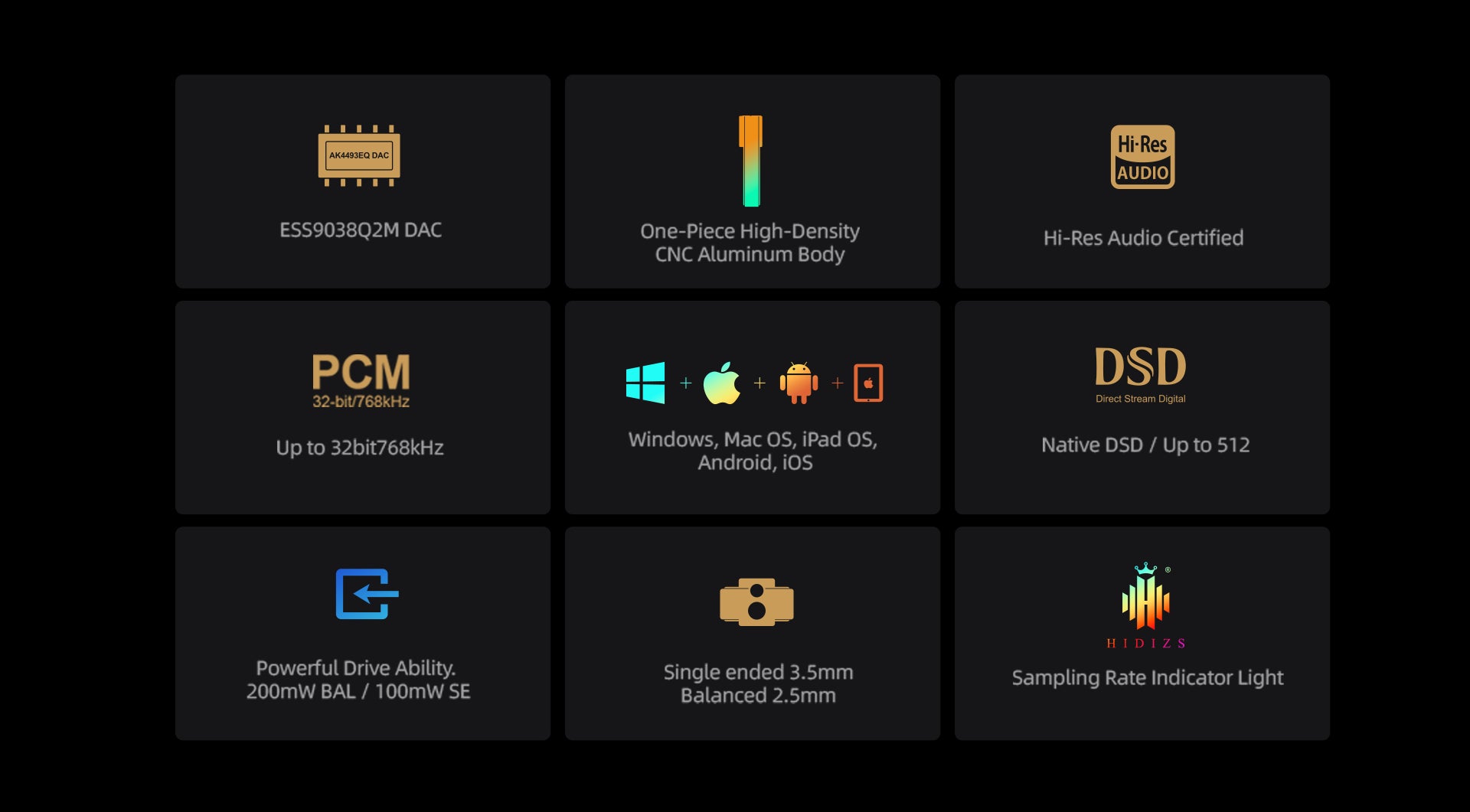 Technical highlights
HIDIZS S9PRO has two independent headphone outputs, namely a balanced 2.5mm port and a single 3.5mm port, the two headphone outputs are arranged side by side. The earphone port and the thickness of the device are highly ergonomic for a compact design.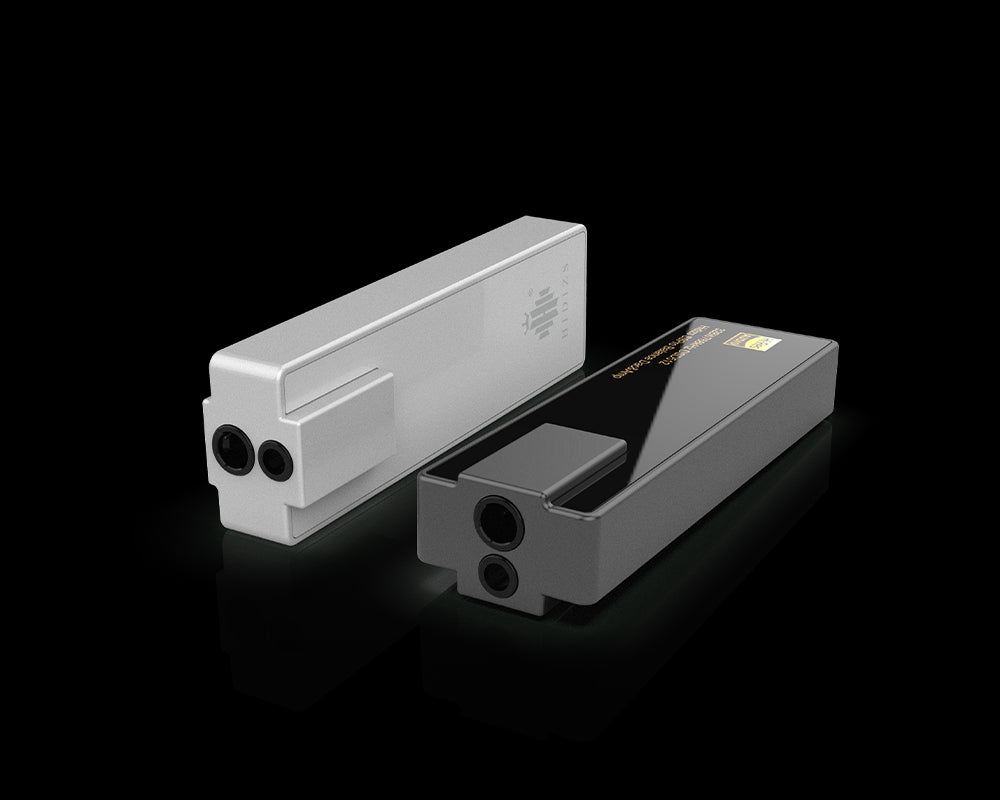 S9PRO uses the flagship DAC chip ESS9038Q2M, its parameters are outstanding. SNR up to 129dB, distortion (THD+N) up to 120dB, plus 32-bit PCM and DSD256 support. Its performance indicators fully measure up to the PCM1794, with overall DSD support up to 512, which is difficult to achieve for the average unpowered portable dongle. Since it's a low-voltage version of the chip, its physical size is tiny and power consumption is minimal at only 40mW. Audiophiles generally mark ESS as a worthy starter setup, its sound performance is atmospheric and warm, pleasant and reflective of studio quality, and the timbre is rich and dominant. The sampling rate supports up to 32bit/768kHz PCM, the sound quality is purer, clearer, and nearly indistinguishable from the original, providing impeccable playback as an HD audio source.
Performance
The HIDIZS S9 PRO portable headphone amplifier has a thrust that cannot be underestimated. Balanced 200mW@32 Ω and single-ended 100mW@32 Ω. The frequency response is 20-50kHz. The signal-to-noise ratio is also outstanding - SNR being 120dB at 32Ω and rising to 119 on the 2.5mm balanced side. Dynamic range is listed as 119 and 120dB. The distortion degree of the single end is only 0.0012%, and the distortion degree of the balanced end is 0.0006%. It has a tiny body and a huge output that's robust, full, and simply irresistible.
Design
The average portable dongle DAC on the market is generally bulky. The HIDIZS S9 PRO dongle DAC amplifier is about the size of a tiny USB stick at only 1.8*5.9*8 cm and weighs only 11 grams. It's rectangular, with one end serving as the USB interface, the other end being a headphone output port. Aluminum alloy wraps the headphone ports to accommodate two outputs in such a tiny device. The aluminum allows accentuates the sleek, geometric design for a layered effect. 

Its USB connection is adjustable and is compatible with cables that have the OTG function, with different core wire materials (my personal favorite being oxygen-free copper wires), to curate your desired sound profile. It's a plug-and-play, fun, and extremely convenient device.

The S9 PRO portable DAC & AMP is made from CNC integrated aluminum alloy, with glass panels configured to both sides for a luxurious and soft feel.

The device comes with a back clip and a long cable so that it can be affixed to a jacket or bag straps for maximum simplicity and convenience.
Sound
Overall, the HIDISZ S9 PRO dongle's sound profile is clean, the timbre is righteous, and the high frequencies are soft, virtually reproducing the original sound. It's ambient, robust, and vibrant.

While listening to "Scarborough Fair", the beautiful melody slowly materializes before you, with unmatched clarity. The low-frequency surges with power, the vocals, and the sound of the instruments are highly distinctive, with vocals at the front, and instruments in the back, producing a boundless sound field.

Of all portable dongle DAC amplifiers on the market, the cost-effectiveness of the HIDIZS S9 PRO is unparalleled.