The Hidizs S9 Pro is an ultraportable amp/DAC adapter for smartphones and computers.
It uses an ESS9038Q2M DAC chip, in order to support up to 32bit/768kHz (for PCM) and up to DSD512. It has two headphone outs: balanced (2.5mm) and single-ended (3.5mm). It has a USB Type C input for connection.
The S9 Pro has a screwless aluminum body and a stylish LED indicator that lights up in different colors, depending on the sample rate of the music being played.
The Hidizs is really tiny: it measures 59 mm * 18 mm * 8mm, so it can fit pretty much everywhere, and it only weighs 11 grams. In order to achieve such a small footprint, it has no battery by itself, so it needs to be powered by the controlling device through its connection.
For its small size, the Hidizs S9 Pro is remarkably powerful, rated at 100mW@32Ω. In comparison, my older dongle (Tempotec HD Sonata Pro) was rated only 60mW@32Ω and was still much more powerful than the Blackberry Keyone headphone out.
Connections
The Hidizs S9 Pro comes with a short USB-C to USB-C cable (for Android connectivity) and a USB-C to USB-A adapter (for PC), while a Lightning cable for connection with an iPhone is not included.
I could test the S9 Pro with my Windows 10 Pc, Blackberry Keyone Android smartphone, and, through a separate cable, iPhone 12 Pro.
The provided USB-C to C cable is a bit of a weak link, as it was loose with my Blackberry USB Type C port.
Connecting the S9 Pro to the PC or phone is plug and play, and once the headphone is inserted in the S9 Pro headphone jack, it's ready to be recognized as the new audio output.
Not having a battery on its own, the Hidizs S9 Pro contributes to draining the phone's battery. How faster would depend on the capacity of the phone's battery itself. On my Blackberry Keyone, for example, a charge would last about 20% less.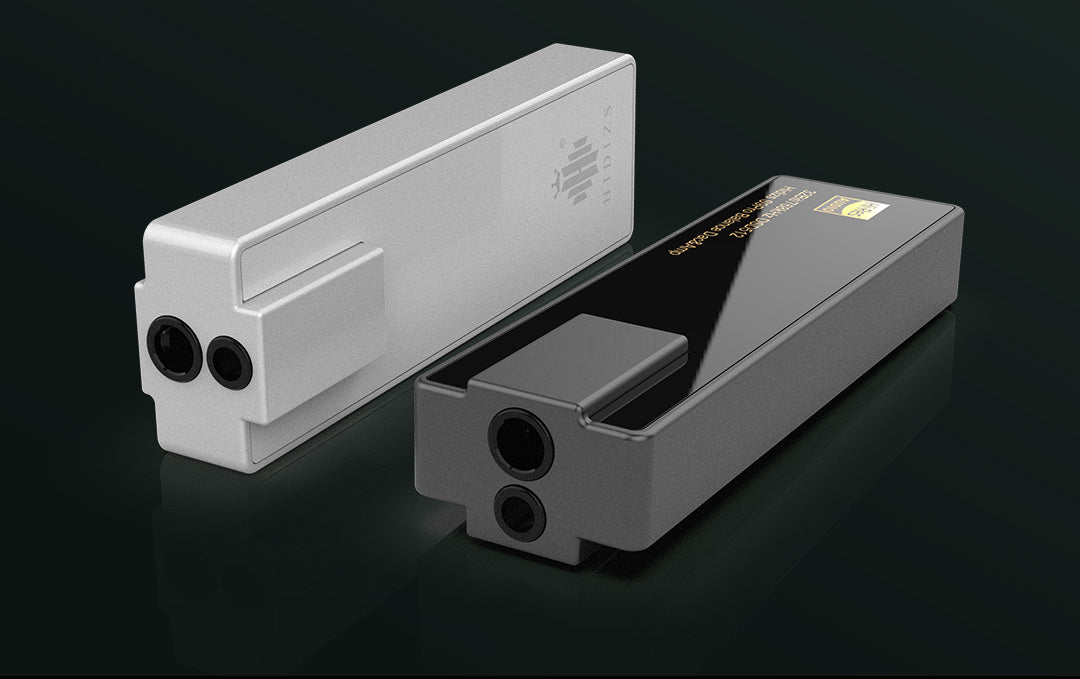 Sound Quality
I have tested the Hidizs S9 Pro with my Etymotic ER49, Hidizs MS2, and Sennheiser Momentum over-ear.
With the external DAC, against the built-in headphone out of my PC and smartphone, the main advantages are the more impactful bass, higher definition and slightly wider soundstage, and slightly higher treble energy. Moreover, in passages where the phone would clip, with sustained bassy passages (e.g. in electronic music), where more current is required, especially with the more power-demanding Sennheiser Momentum, such passages are effortless with the S9 Pro.
The increased soundstage is tied to both the cleaner output and the additional power, which can make impulse response a bit faster.
When increasing the volume, it grows linearly in all frequency departments. While many headphone jacks tend to attenuate treble slightly, probably for energy-saving reasons, the S9 Pro does not, increasing the perception of additional treble detail with the increased volume, and maintaining a sensation of cleanness across the spectrum.
Over the Tempotec (although I don't have it anymore, so I need to go by memory) the main difference is that the Tempotec simply sounded "louder" than the headphone jack, so I felt underwhelmed, while the S9 Pro has a more refined output, as described above.
The Hidizs S9 Pro noise floor is low enough for my IEMs (and even more so for my Momentum), although it's possible that some hiss might be picked up with super sensitive IEMs (e.g. 119dB sensitivity).
To view the full article, please click here.