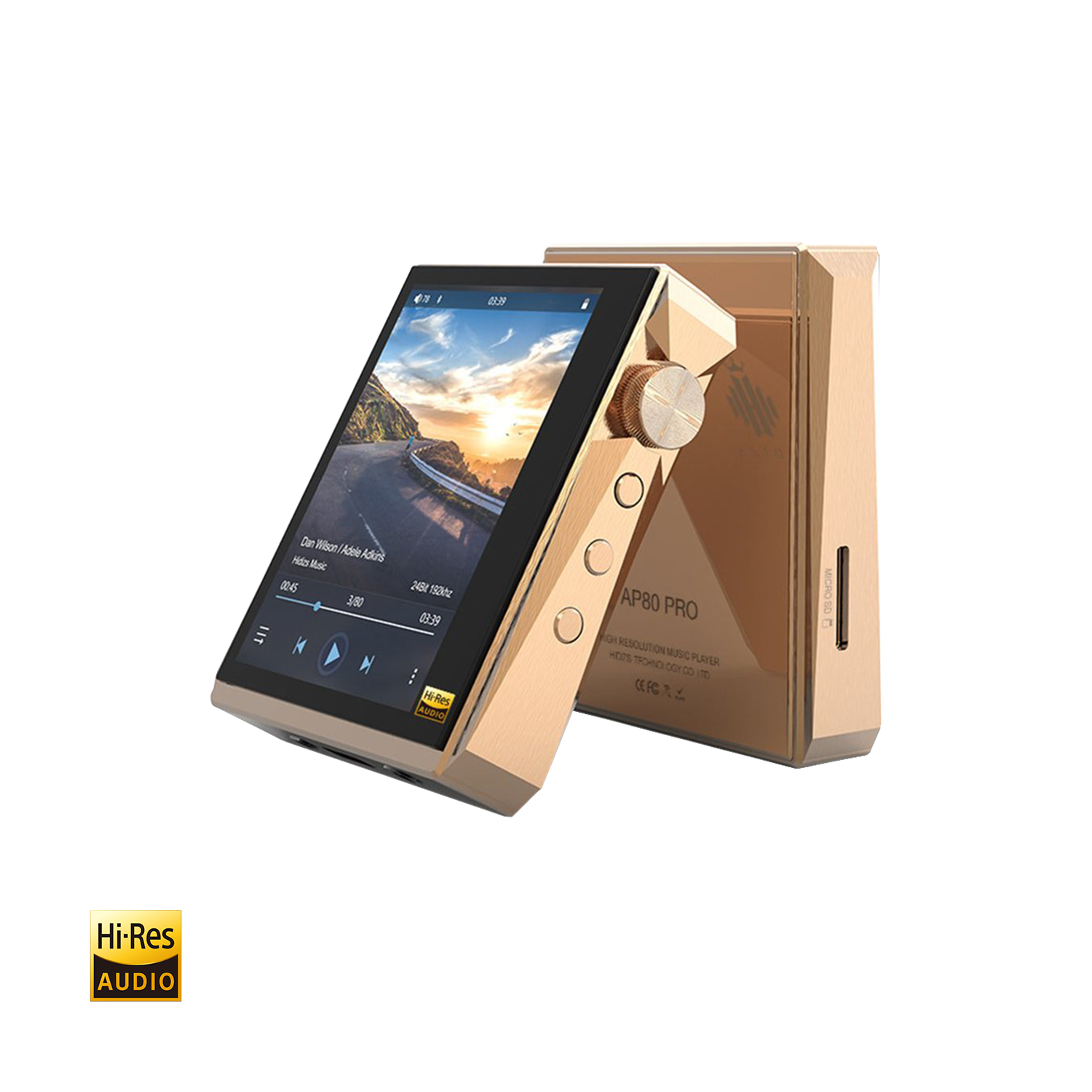 Hidizs AP80 Pro Portable LDAC Lossless MQA Music Player
Features :
- Dual DAC Chip & Precision FPGA Chip
- Support MQA 4X Audio Technology
- Bi-Directional Bluetooth 4.2 & UAT Transmission Technology
- Single-ended 3.5mm & Balanced 2.5mm JACKS & Samsung IPS HD Touchscreen
- Bi-Directional USB DAC & Expandable Storage Capacity
- Portable MP3 Player & FM Radio & Step Counter
Support MQA 4X Audio Technology
MQA is an award-winning British technology that delivers the sound of the original master recording. The master MQA file is fully authenticated and is small enough to stream or download.
Hidizs AP80 Pro portable music player includes MQA technology to complete the final unfold (4X) of an MQA file.
MQA (Master Quality Authenticated)
Hidizs AP80 Pro includes MQA technology, which enables you to play back MQA audio files and streams, delivering the sound of the original master recording.
'MQA' or 'MQA Studio' indicates that the product is decoding and playing an MQA stream or file, and denotes provenance to ensure that the sound is identical to that of the source material. 'MQA Studio' indicates it is playing an MQA Studio file, which has either been approved in the studio by the artist/producer or has been verified by the copyright owner.
eBook Reader
With the eBooks function, AP80 PRO can enrich your music life. How enjoyable it is to read eBooks while listening to tracks.
Dual DAC Chips, Industry Leading Performance
Equipped with dual ESS9218P DAC chips with powerful decoding. SNR+130dB, DNR+121dB and THD+N-114dB, the indicators are excellent to ensure audiophile quality sound all the way.
Two Jacks for You to Choose
Single-ended 3.5mm and balanced 2.5mm jacks illuminate each other, you are assured the best possible listening experience.
High Precision FPGA Chip
With the dedicated FPGA chip HBC3000, the accuracy of digital music reproduction can be increased by master clock and the clock jitter can be perfectly controlled. Meanwhile, it can hardware decode native DSD 64/128/256.
Get an Extraordinary Touch-Screen Experience
Samsung 2.45" (480×360) IPS HD touchscreen with clear picture quality, fast response time, rich visual details and comfortable viewing experience.
Powerful Step Counter Function
With the high-precision step counter function, AP80 PRO can provide accurate outdoors workouts data to lead to absolute harmony of music, life and sports.
FM Radio - Listen to The Voice from The World
Please turn in on radios if lack of interest in music. Massive high-quality radio programs, such as finance, entertainment, health, emotional story etc. You will never feel lonely and helpless.
Artistic Minimalistic Style
Adopted Minimalism aesthetics design and 5-Axis CNC technology, the one-piece high-density aluminum body is full of artistic features. Meanwhile, the ingenious Japanese ALPS volume wheel will bring you the mechanical charm.
Support Bidirectional USB DAC
The AP80 Pro can be a digital source after connecting the USB decoder with DAC input function, also can be connected to a mobile phone and a computer as an external DAC AMP. All your devices can be turned into a professional music player with HiBy Link and MSEB function.
Hi-Res Audio Certification
The AP80 Pro is certified by the Hi-Res Audio, which is a standard for high-quality audio products formulated by JAS and CEA, already recognized and supported by numerous fanciers.
This product is rated 5.0 of 5.0 stars.
It has received 7 reviews.