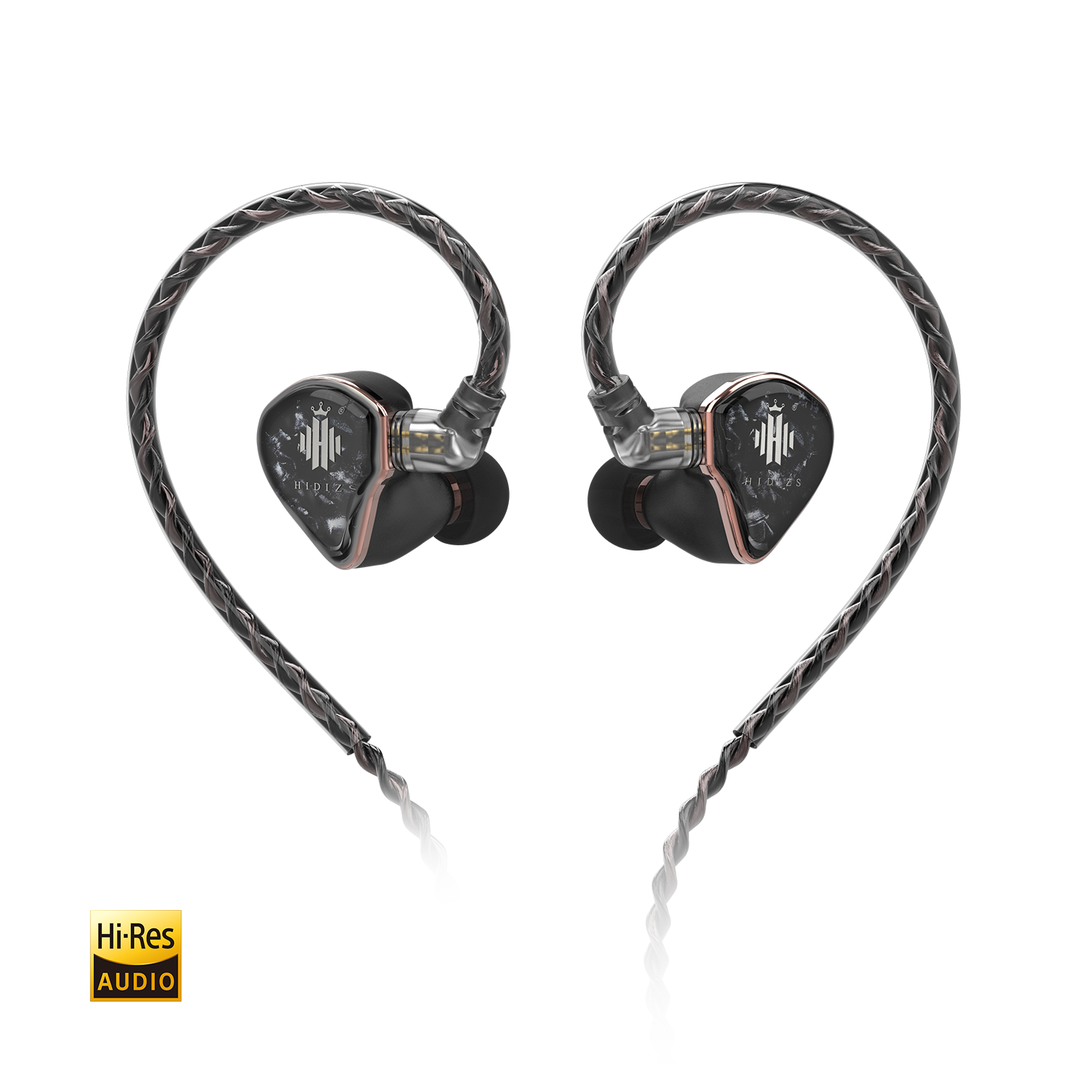 Hidizs MD4 4 Balanced Armature Drivers HiFi In-ear Monitors
Features :
- 4 Custom-Designed BA Drivers
- 4 tuning styles
- 3-way crossover
- High-precision 3D printing straight acoustic sound tube
- Multi-metal body
- Premium cable braiding, quad-core silver & OFC wires
- Detachable 0.78mm 2pin gold-plated socket

4 Custom-Designed BA Drivers - HIDIZS Gold Effect
Combining 4 Hidizs Custom Balanced Armature drivers to bring you acoustic charm, developed and tuned for years by Hidizs professional audio team, with evolved sound range performance.
One custom BA driver for high frequencies: get higher resolution and more extension, crisper sound, and richer details.
One custom BA driver for midrange: more body for the mids, more power, and presence. Intoxicating texture, unbelievable vocals.
Two custom BA drivers for low frequency: double power to stimulate thicker bass, incredible depth, tight response, and rich texture.
High-precision 3D printing straight acoustic sound structure
Redesigned internal audio transmission structure, high-precision 3D printing straight acoustic sound tube, ensures continuous and clean audio output of the custom-designed 4-BA drivers, reduce overlap and interference of sounds between multiple drivers. Effectively increasing sound density, reduce distortion and harmonic resonance. Ensure accurate audio crossover, excellent performance and layering!
3-way Crossover
MD4 accurately calculates the connection of different frequency bands, reasonably allocating high, ultra-high, medium, and low frequencies, increased accuracy and clarity for all, mutually balanced and harmonized. Hidizs' decades of experience in acoustic tuning ensure MD4's outstanding performance in different frequency bands.
Get 4 for the Price of 1! No More Single Tuning Sound 
Electronic crossover tech to facilitate switching between four different sound styles, with a 2-level tuning switch, easily switching between high & low impedance.
- HIDIZS MD4 HiFi IEMs, 4 sound signatures that work well with all music genres.
Balanced: Classic Hidizs tuning, suitable for most people's listening styles.
Warm: excellent performance at all frequencies, stronger musical sense. Suited for folk & pop music.
Treble: remarkable highs/ultra-high. Suited for rock and electronic music
Bass: boosted bass with excellent speed and a tight response. Suited for symphony and classical music
Hidizs MD4, balanced armature drivers IEMs full of ambition, accommodating different listening preferences, as well as changes in preference over time.
Elegance in Your Ears - HIDIZS Metallic Art
Handmade plating: laser-cut and hand-polished, with the beautiful amber finish; lined with EU IIA certified medical-grade skin-friendly resin.
Aluminum-alloy CNC integration, rose-gold middle frame, celluloid faceplate, and aluminum alloy output nozzle. Make the most of Hidizs' industry-leading metalworks, trendy elegance with guaranteed output purity and stability for reduced harmonic resonance and distortion.
More Comfortable Wearing
The headphone connector adopts an elbow design for more suitable for the human ear curve and ergonomic, optimizing the wearing experience. Cable sockets use gold-plated materials for more stable and smooth audio transmission.
Superior Cable
60 high-purity silver wires + 60 high-purity oxygen-free copper wires tightly twisted in four strands to keep it nice and light in appearance, and for better performance in sound. Silver wires for a brilliant and clean sound. Copper wires for added smoothness and gentle performance.
Classic 0.78mm 2Pin Design
Standard 0.78mm 2pin designs are retained for good cable suitability and compatibility. Thus you could enjoy further upgraded sound or get more listening experiences, created by different cables with the same specifications.
Complimentary Hidizs EA01 Portable Custom Faux Leather Case
Designed for Worry-free Portability. Made from premium, water-proof, sustainable polyurethane leather, designed with magnetic clasp and iron-reinforced leather to prevent shape loss and provide maximum protection. Handmade by seasoned craftsmen.
Hi-Res Certified
Hi-Res Audio certification by Sony. Recognized by JAS (Japanese Audio Association) and CEA (Consumer Electronics Association), for exquisite quality and original sound reproduction.
They All Love Hidizs Products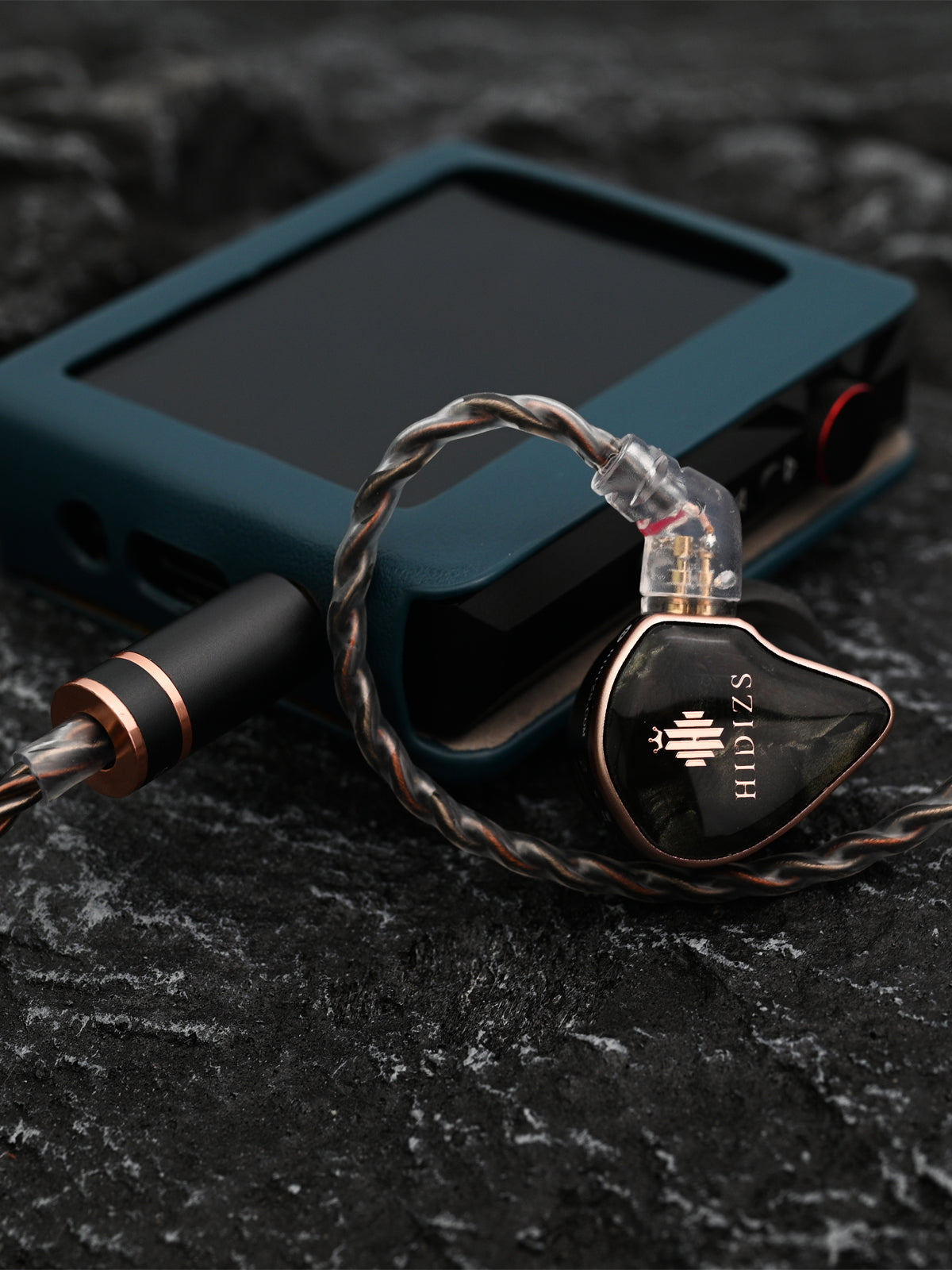 This product has no reviews yet.