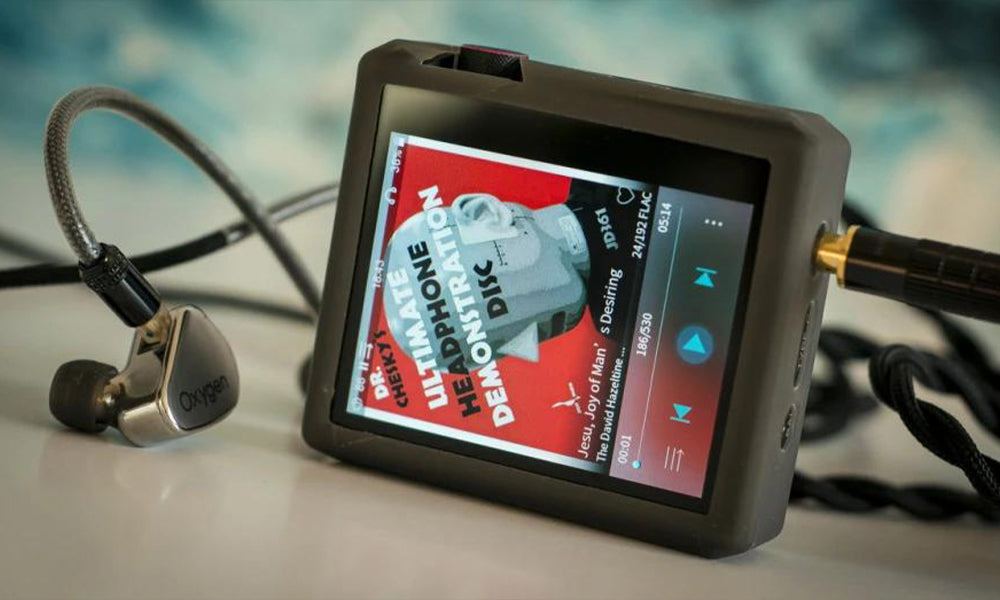 The box is fairly compact matching the small design of the AP80 Pro. An all black colored box with some specifications on the back. Upper layer holds safely the AP80 Pro device inside a plastic bag surrounded by foam material. Underneath, all the accessories. They include the necessary stuff, two USB cables, one of Type-C to A and another Type-C to Micro-USB, extra protective films for the front and back glass panels, and finally a silicone case in semi-transparent smoke/gray color.
Design
The AP80 Pro keeps the same design as the original AP80 version. I hadn't a chance to try the original one, but if specifications are accurate the Pro is very slightly larger in all dimensions and a little bit weightier. Compared to other recent compact portable players with touchscreen, the design of the AP80 Pro is more unique. All the others follow a rectangular or square shape in a smooth finish with well rounded corners. The AP80 instead, has a more refreshing sharp square shape through the whole contour. A very similar design to found on the upper Fiio players and which all look obviously inspired in some of the modern A&K players, including the volume wheel. The most important addition to the Pro version is the 2.5mm balanced port that now takes advantage of the dual DAC over the single on the first AP80.
Build quality looks solid enough. The main body is made of CNC machined aluminum piece in a smooth paint finish available a popular variety of colors. The weight is about 70g, a good standard for small portable devices; adding a proper armband can comfortable enough for active sport use. While the more unique sharp design does look more eye-catching it may have some impact in ergonomics for some users. The use of the silicone case will completely fix this issue if needed, though will make the player look rather unattractive. Front and back sides are covered by glass panels, both with protective films attached. The AP80 Pro won't fall under ultra-portable players with devices as the Shanling M0 and Fiio M5 going around. Still a very portable player it is to compete with the Q1 and M6, even lighter, though smaller in its actual touch screen size.
The layout is simple. The right side has the four physical controls. The wheel button at the top that works as power and screen on/off if pressed and as volume control. It has enough resistant to avoid being pressed by mistake. The volume adjustment is accurate, without jumping more than a step per click. It can a bit stiff to operate one-handed if not applying extra strength. Below are the three playback buttons, rather small but easy to reach when not applying the silicone case.
To view the full original article, click here.